Clean, Safe, and Bright Laundromat!
Everyone needs clean clothes, so why not wash yours in a safe, friendly, modern facility? Revolution Laundromat is changing the self-service laundry industry—and we're pleased to serve Richardson, Texas! Our customers love the Revolution Laundromat experience because we offer a one-stop-shop for all your clothing care needs, but that's not all. Not only is our self-service laundromat highly affordable, we also provide services and amenities that you would be hard-pressed to find anywhere else!
Modern & Bright Self-Service Laundromat
Full-Service Laundry Dropoff Wash/Dry/Fold Services
Convenient Laundry Pickup & Delivery Services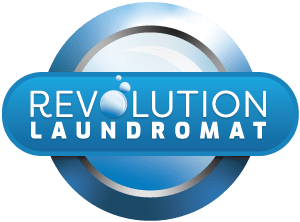 525 W Arapaho Rd., Suite 26
Richardson, TX 75080
Overview of Our Self-Service Laundromat
Revolution Laundromat is an industry disruptor. We've changed how people get their laundry done, making it easier, safer, more affordable, and convenient to get premium garment care. We have full-time attendants on duty at all hours to assist and to keep you safe. From our smart machines to our children's center, we've thoughtfully created a self-service laundromat like no other. Our Richardson, TX location is a full-service laundromat offering the following:
Affordable self-service laundry
Wash, dry, and fold bundle laundry services
Professional dry-cleaning services
Although it's easy to have our attendants take care of your laundry for you by using our laundry drop-off wash/dry/fold services, we think you'll agree that it's quite enjoyable to spend time at our laundromat doing your own laundry. Revolution Laundromat offers a rich array of amenities designed to make you feel like a VIP!
Services Available & Prices
Self-Service
Laundromat Prices
Bring your own detergents, fabric softeners, and whiteners, or purchase what you need from our friendly staff.
All of our self-service machines can be activated by our smartphone app or you can pay at the machine with quarters.
Full-Service Dropoff Wash/Dry/Fold Prices
Same Day Pickup*

$1.79/lb

*in by 6:00 PM for same day pickup
Premium Detergents and Fabric Softeners available.
Premium Dry Cleaning Services for apparel and household goods also available.
Laundry Pick Up
& Delivery
Schedule your laundry and dry cleaning for on-demand, one-time, weekly, bi-weekly, every 3 weeks, or monthly pickup & delivery with easy, next day return.
Commercial Laundry Services
Our commercial laundry pick-up and delivery services are available throughout the entire greater Dallas Metroplex.
Top Amenities of Richardson's Revolution Laundromat
Doing laundry doesn't have to be a time-consuming hassle! Our laundromat in Richardson is equipped with modern, high-speed machines that save you time. Our washing machines can complete a cycle in just 30 minutes, and our dryers average less than 20 minutes per cycle. Plus, you can customize your wash/dry cycles to suit your needs either at the machine or within our app.
While you're at our self-service laundromat in Richardson, TX, you can enjoy an experience like no other. Enjoy free coffee and water in our waiting area, designed to make our customers feel like VIPs in a luxury airport lounge. Help yourself to our complimentary, high-speed WiFi and use our device charging stations. Or, you can binge-watch your favorite show on our large-screen, high-definition TVs while you relax in our comfortable seating areas. Plus, our vending machines are always fully stocked with popular treats.
Our Richardson location also features a Laundry Cares Children's Education and Reading Center, so you don't have to worry about keeping your kids entertained while you wait for your laundry.
FAQs About Our Self-Service Laundromat
Richardson's Revolution Laundromat strives to make our laundry services as affordable as possible to enable everyone to benefit from exceptional garment care. We offer a variety of different sized washers and dryers with a single wash cycle starting at $3.00 per load and dryers starting at just 25 cents per cycle. If you're in a rush, our attendants can do your laundry for you starting at just $1.49 per pound.
Our modern machines are designed with convenience in mind. Most of our customers enjoy using our app-based payment system which allows you to pay via credit card, debit card, and cash. By using our app, you will earn Revolution Laundromat Rewards to use immediately towards washing and drying. Simply download the app, create your profile, and add funds via card or with cash at our in-store Value Center. Our machines also take quarters.
We offer extended hours to better serve the needs of our customers. You can visit our self-serve laundromat between 6 AM and 10 PM every day.* No matter what time of the day or night you visit, you can expect to do your laundry in a safe environment, thanks to our state-of-the-art video surveillance system. Plus, we always have an attendant on duty to assist you.
*Hours may vary due to holidays. Please visit our main page for our current hours.
Visit Our Richardson, TX Laundromat
Our friendly associates hope to see you soon at our location in Richardson, Texas. We're conveniently located at 525 W. Arapaho Rd. Suite 26. If you have any questions or wish to schedule a laundry pick-up service, you can contact us at (469) 372-6155 or drop us an email at [email protected]. You can also click to schedule laundry pick-up & delivery available throughout the Dallas Metroplex and save yourself a trip to the laundromat!