Click the Schedule a Pickup button and enter your address.
Choose which services you need and schedule your laundry pickup
We'll handle the rest. Your laundry will be delivered clean, folded, and ready for you to enjoy!
The Revolution Difference
We offer a low rate of $1.89/lb for wash/dry/fold pickup & delivery service. This standard service includes All Free Detergent (unscented) and Snuggle Brand softener. Upgrades include Tide, Downy, Oxi Clean, and Bleach (Color-Safe & Regular).
Our service team is always friendly, and we offer easy, contactless pick up and delivery. You can choose either one-time, weekly, and bi-weekly pick up schedules.
A combination of top-grade detergents and ultra-high temperature equipment kills bacteria and viruses to deliver an even better clean.
Presorting everything in bags allows us to maintain your sorted organization as we wash, dry, fold, and return your laundry. Or let us sort it for you.
Our high-quality dry cleaning service makes us the one-stop shop for all your garment care needs. Just separate your dry cleaning from your laundry and we'll take care of the rest.
From bedding and towels to pet beds and even horse blankets, we have the experience, equipment, and know-how to get it clean.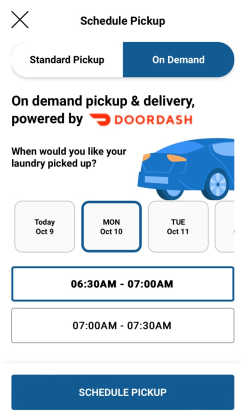 Get loads of time back
in your day.
With laundry and dry-cleaning pickup and delivery service from Revolution Laundromat, you can schedule your laundry and dry cleaning for on-demand, one-time, weekly, or bi-weekly pickup & delivery with easy, next day return.
*$45.00 minimum order required for wash/dry/fold pickup & delivery and $60.00 minimum order for Dry Cleanding pickup & delivery. If you do not meet the minimum weight necessary, a surcharge will be added to your total to get you to the minimum.
Commercial Rates Available
Discounted Rates for Commercial Services
Competitive rates and volume discounts available. Call today for a quote.
Our commercial laundry pick-up and delivery services are available throughout the entire greater Dallas Metroplex.
We work with all business types including gyms, yoga studios, spas, salons, restaurants, hotels/motels, AirBNB and short term rentals, churches, shelters, and more...